AFROPUNK Fest Brooklyn 2019
End of summer is bittersweet. I spend a lot of time outside during the summer months and sometimes the heat can get to me. It makes doing the things I love to do outdoors a little more challenging. Being that summer is almost over I was looking forward to AFROPUNK Fest and seeing some great music. I typically don't go to music festivals because they tend to be too chaotic for me. AFROPUNK on the other hand is more worth my time. The overall vibe is dope, creative and there are many musical acts that I get a chance to see.
Typically its an excruciatingly hot weekend in Brooklyn during the festival being that its the end of August and all. The weekend before we left, I saw that the forecast was beautiful, partly cloudy and 75 degrees. It made me so much more excited to get to the festival. I didn't get much coverage on the first day because I was stupidly underprepared and my camera died during Leon Bridges' set along with my back up battery being dead. It just meant I spent more time enjoying the music and taking in the scenes of the day.
I spent a few days the week of the festival researching a bunch of the artists that were to perform and one that really stood out to me was EARTHGANG. I really dug their take on hip hop and made it a point to check them out. It worked out pretty well since they were during a slot not shared with any other performers I wanted to see. They were a great representation of the feel of AFROPUNK Fest. Really creative music, style and involved the crowd in some dancing on stage.
After watching EARTHGANG we stuck around at the same stack to check out Tierra Whack. I recently listened to her album Whack World and was really into it. It was an album of 1 minute songs that somehow don't feel that short. She put on a great show with a lot of energy. I wasn't expecting her to have anyone perform with her but during her set she brought a special guest… Alicia Keys, ALICIA "IF I AIN'T GOT YOU" KEYS!
I was really surprised to see her come out and perform with Tierra. They seemed to have a really great chemistry with each other and complimented each other well.
We took a bit of break after Tierra Whack and Alicia Keys ended, took a stroll around the big field to get some drinks and to see what was going on till Gary Clark Jr. started. It's been a few years since I've seen him play and I was pretty excited to get the chance to see his set. I've been listening to him for at least six years and it's always a treat when I get a chance to watch his show.
Around this time I started to realize that my camera battery was on it's last legs but I had a false sense of security since I had back up battery tucked away in my bag. I grabbed a few shots of his set and decided to let my battery rest to watch the show and have enough power to shoot the next act. I was really happy he played a lot of the songs I really like and added a lot of those bluesy guitar solos you only get during his live shows. I definitely can't wait till the next time he comes around, I'll be seeing that show for sure.
We didn't go too far after Gary finished his set so we could catch Leon Bridges. At this point my camera battery was extremely low, so I finally decided to change my battery. To my disbelief, my backup battery was completely dead. I managed to get a few shots of Leon Bridges performing until it died. I didn't mind too much honestly, it was a great show to experience.
I've seen Leon Bridges and his band in a few types of venues. This was definitely the biggest by far, the last place I saw him was a small club in Brooklyn. I was happy to see he brings the same energy to his performance where ever he is. His music is great for the soul.
Basically these are the last photos I was able to shoot before my camera died on Day 1. We caught a few more artists and headed back to Brooklyn to my friend Ron's house. I definitely was much more prepared the second day. I charged a few batteries and made sure I had everything I needed. We arrived a bit earlier to have a chance to walk around and check out the vendors and grab some food before the music we wanted to see started. On the first day we never really made it back to the Gold Stage so we went to check it out. The sizable ensemble that was Burnt Sugar was on stage when we arrived. They weren't on my list of acts to see but I was happy we caught a bit of their set before making our way back to the main stage to catch the Suffers.
Our reason for going over to the main stage was to catch The Suffers. We got there a bit early so I could get close to the stage to grab some decent photos. Due to some technical difficulties they were running late and they only played 3 songs before ending their show. Such a shame because they were incredible.
I've been loving the resurgence of these soul bands with strong lead vocalists. Speaking of the vocalist, she really knew how to capture a crowd and I also really dug the color of her dress in contrast to the color of her hair. The way they performed really made the 3 songs feel like a full concert which I'm sure everyone appreciated.
After The Suffers we had a little time to kill till the next show we wanted to see. It wasn't a whole lot of time so we didn't wander too far. We arrived back at the same stage and waited for Toro Y Moi to come out.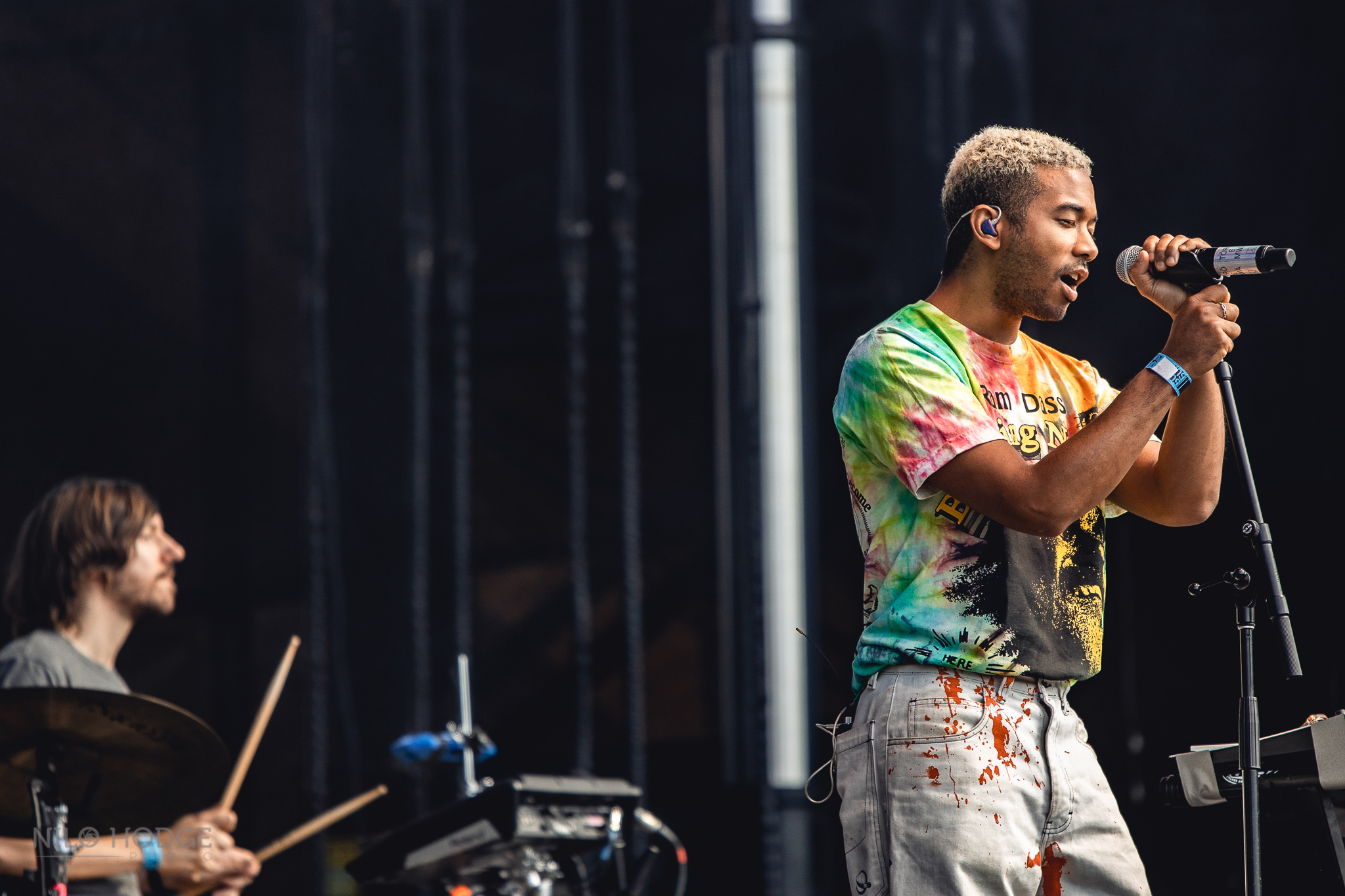 Over the years I've heard and seen the name Toro Y Moi and had a completely different idea of what kind of music they did. My friend Damian really wanted to see them so I figured that had to be good. I was completely surprised, I was expecting some brooding indie music, but as soon as they began to play they had the crowd dancing. This was one of my favorite performances of the day actually. They played a lot of great music and pretty much had their album "Outer Peace" on repeat the week after the festival.
After leaving the main stage area, we made our way back to the Gold Stage to catch Masego. He recently had a Tiny Desk Concert come out on NPR and it was amazing. I knew this set was gonna be great. We showed up about 25 mins early to catch his show and it was really crowded already.
I really dig Masego's style of music. It's a good mix of R&B, Hip Hop and Jazz geared towards love and relationships. You can tell he really loves to perform to the crowd. About half way through his set, he brought out several roses for the ladies in the crowd. I did see at least one pair of underwear thrown towards the stage in exchange. You really have to love the tradition of exchanging gifts at shows.
We shuffled our way out of the Masego crowd a little early to get a good spot for Santigold. I was really anticipating seeing her set, it's been a long time since I started listening to her music and I never had the opportunity to see one of her shows. She has such a creative style so I knew it would be a great set.
Her set was back on the main stage and when we arrived it looked pretty different which was a great sign of the show to come. She had two dancers dressed as 1950's era cheerleaders on either side of her doing a very choreographed routine upon rotating platforms. She played a lot of her older popular songs before we made our way to the next show.
This was one of first scheduling conflicts we had during AFROPUNK Fest. About half way through Santigold's set Danny Brown was set to take the stage on the side stage. So we stayed as long as we could before making our way over to watch Danny. While waiting for Danny it was coming up on sunset and the light was really interesting. We had some really nice golden hour mixing with the fog machines of the stage, like the next photo below.
Danny Brown
I was totally expecting the crowd for Danny Brown to get a bit outta hand so we kept our distance at first since I was carrying camera gear and didn't want to have it destroyed. It was good to see this dude put on a great show. The last time I attempted to see him, he was too far gone down the road of either drugs or alcohol to perform more than a song or two. AFROPUNK was a completely different story though. It was an amazing set and we made sure to stay for the whole thing. He even played a few songs off his upcoming album produced by Q-Tip.
We were starting to feel the weekend's weight weighing down on us by the time Danny Brown finished his set. We went and found some good vegetarian sandwiches to try to get some energy back before Death Grips started. After eating, it was pretty much dark out so we made our way over to the side stage to catch them play.
Death Grips
I've always seen wild footage from Death Grips shows and I was a little apprehensive about getting anywhere near the crowd. For my taste, their music is great in small doses. Their fans seemed really hyped to be there and that was dope to see. I immediately saw a guy crowd surfing before the end of the second song. I really dug what they had going on with their lighting. We didn't stay too long because we wanted to check out Kamasi Washington.
Kamasi Washington
It took a bit to get to Kamasi Washington since it was one of the last performances of the night. It was really dark and people were everywhere. Picnic blankets were strewn about in various places in the crowd so you had to be aware as to not step on anyone. By the time we got to the stage, Kamasi was in full swing. His band was insanely talented. You feel like you're being transported to another world when they play.
After Kamasi I was ready for bed. But FKA Twigs was going on and we still had to drive back to Pennsylvania. We stuck around for the first 3 songs she did and we got outta there. I was too tired to even think about taking photos but I really enjoyed what I saw she did. I'll definitely go back to AFROPUNK Fest next year. I never have a bad time.